Where will the train take you?
See the beauty of Southern California from the best seat around – onboard the Amtrak Pacific Surfliner. Escape to the open outdoors, eat and drink your way through the region's best dining districts, soak up some sunshine at the beach, go support your team – with service to 29 stations, the Pacific Surfliner can bring you to fun activities and unique experiences perfectly suited to you.
Discover the reasons to choose the train for your next trip:
Convenient access to top attractions and live events
Onboard amenities to make the most of your trip, including reclining chairs, free Wi-Fi, power outlets, restrooms, and a Market Café with fresh food, cocktails, wine, and craft beers
Iconic views of diverse Southern California landscapes, from sparkling beaches to lush farmland and rolling hills
Group seating for parties of 3 or 4, including some table seats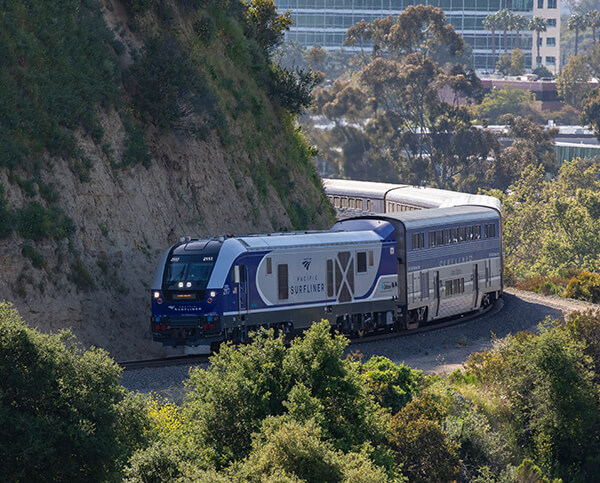 Special Offers on Train Travel
Learn More About Riding with Us
The Pacific Surfliner travels along a 351-mile route through San Diego, Orange, Los Angeles, Ventura, Santa Barbara, and San Luis Obispo counties, with portions of the route hugging the Southern California coastline. Onboard amenities offer a comfortable ride that's even better when enjoyed alongside panoramic views of the iconic landscape.