Animal lovers, this is for you! Dogs and cats up to 20 pounds (combined weight of pet and carrier) are now welcome on Pacific Surfliner trains. It costs $29 or 1,000 Amtrak Guest Rewards points to make a pet reservation for the Pacific Surfliner.
The Details:
Five pet reservations are available per train (not including service animals), so book early
One pet reservation per passenger
Pet must be in a carrier at all times, and the carrier must be placed under your seat
Available in Coach (not Business Class or the Café Car)
Not available on Thruway bus connections
Pets must be 8+ weeks old, not disruptive, and up to date on vaccinations
Riders must sign a pet release prior to departure to confirm eligibility
Pet ticket is fully refundable prior to departure and can be modified or cancelled by calling 800-USA-RAIL
View complete program details at Amtrak.com/pets
How to Book:
Select the train you'd like to ride
Add your traveler details
Proceed until you see the option to customize your trip
Add a pet to your reservation for $29
Contact 800-USA-RAIL if you need to modify your reservation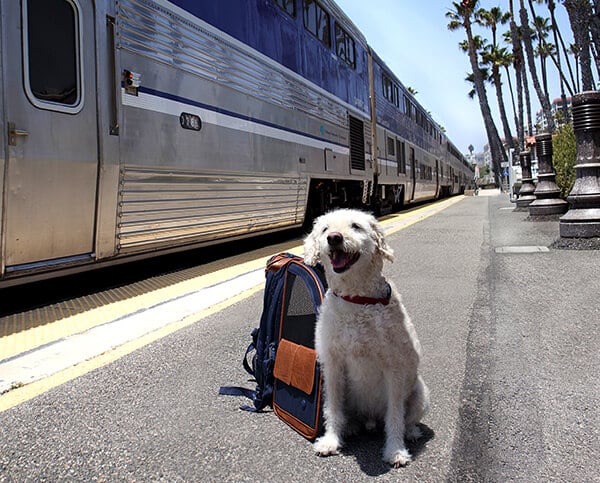 How About My Service or Comfort Animal?
The Pacific Surfliner welcomes qualified service animals onboard at no charge. Service animals are animals that have been trained to perform a specific task for a person with a disability. Please indicate that you are traveling with a service animal when making a reservation (select "Passenger with Disability" as the rider type). Animals that are strictly for emotional support or security are not considered service animals, but may be booked through the pet program. Learn more on Amtrak.com.
Pet-Friendly Trips
Many Pacific Surfliner destinations offer activities that both you and your furry friend will love. Visit our partners to learn more about activities to enjoy with your pet once you arrive.