The LOSSAN rail corridor stretches 351 miles from San Diego to San Luis Obispo, with the Amtrak Pacific Surfliner, freight, commuter, and long-distance trains sharing the tracks and certain stations. Ongoing construction projects keep the infrastructure in top condition and contribute to overall improvements in rail travel along the corridor. Larger projects require tracks or stations to be closed so crews can perform necessary work, which can temporarily affect train service.
Track Closures
Tracks Closed near San Clemente Pier due to Falling Debris from Nearby Slope
Updated June 7, 2023
Debris falling from a slope north of the San Clemente Pier has resulted in a track closure in the area effective Monday, June 5. Pacific Surfliner service is affected between Irvine and Oceanside. 
The location of the closure is near San Clemente's Casa Romantica Cultural Center and Gardens. The same slope caused a temporary disruption in service in May 2023. An assessment of the area is underway, and a work plan will be created to determine when service can safely resume. We are working closely with with our partners at OCTA, Metrolink, and the City of San Clemente, and will share updates as information becomes available.
Buses are secured through Sunday, June 11 to travel around the closure, connecting to trains in Irvine and Oceanside. We're evaluating service options for the week of June 12 and until tracks reopen. Real-time updates are available on the @PacSurfliners Twitter account.
Reservations can be updated online at  Amtrak.com or by phone.
Effective Through Sunday, June 11:
Trains 572, 573, 586, and 587 are cancelled.

Trains 562, 765, 769, 770, 774, 777, 784, 785, 790 and 591 will operate with bus bridge between Irvine and Oceanside.

Trains 564, 580, 581, and 595 will originate/terminate in San Juan Capistrano (no alternate service provided from stations south).
Timetable - Effective Through June 11

Please note: As this is an evolving situation, service plans may change. It may take a little time for revised train schedules and bus connections to show up on Amtrak.com and the Amtrak app as the system is updated. Please call 800-USA-RAIL, reach out to us on Twitter, or visit an Amtrak ticket window for assistance.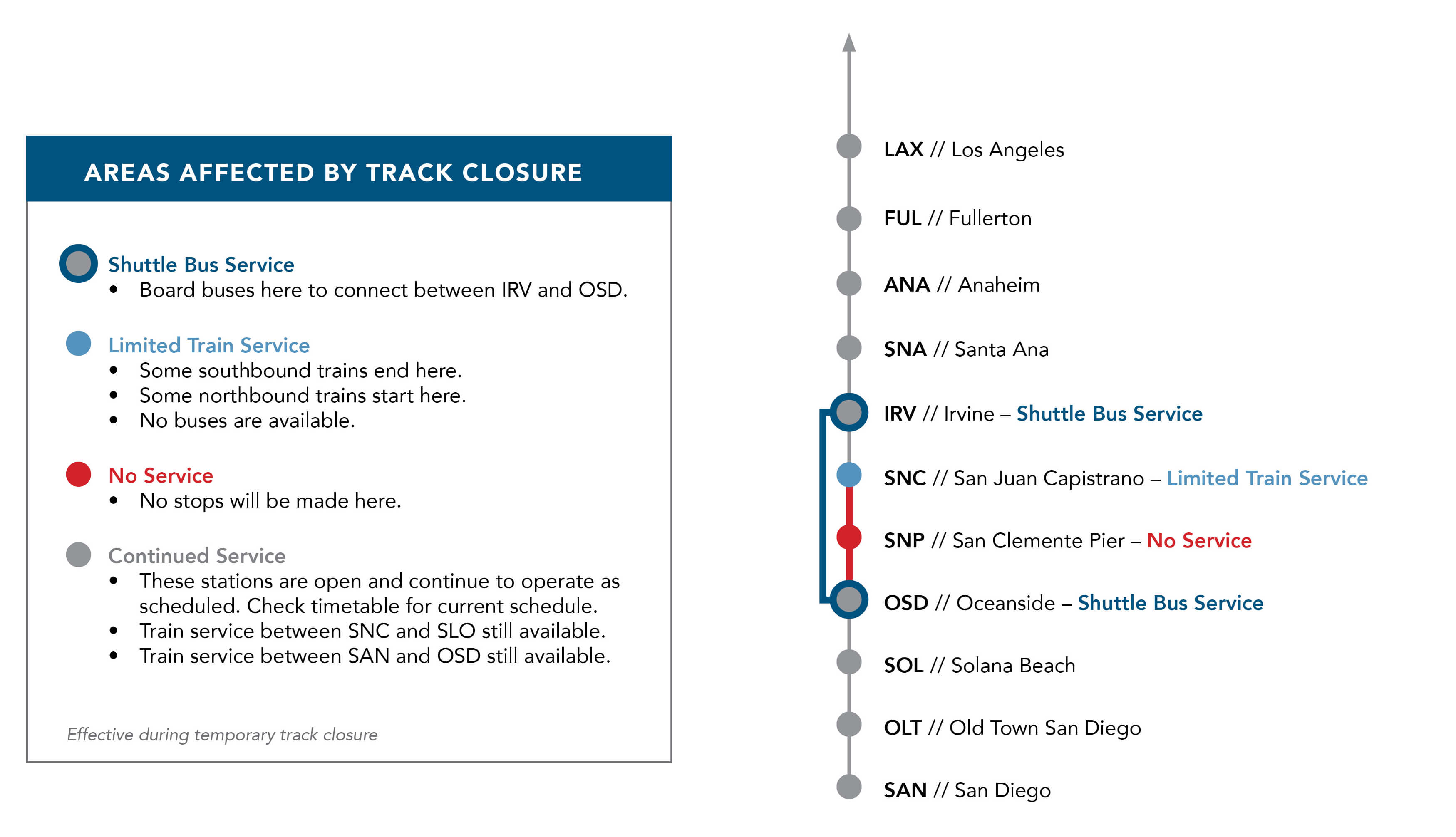 ---
Station Notices
Santa Ana Station: Nearby Road Construction (April 2023)
Construction along Santa Ana Boulevard at Santiago Street for the OC Streetcar project may affect access to the Santa Ana Regional Transportation Center. Passengers may enter the station parking lot from Santa Ana Boulevard through the new left-turn pocket east of Santiago Street. When exiting the structure, turn left and exit to Santiago Street, or exit and turn right and drive back through the parking lot to exit onto Santa Ana Boulevard to get to the freeway.
---
Other Updates
There are no other notices at this time.