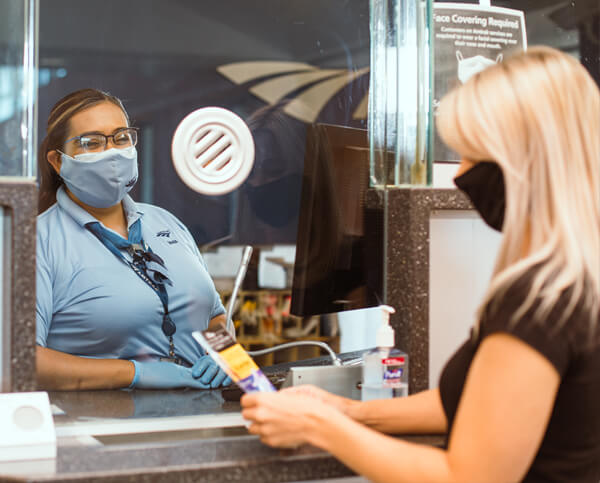 When You Book
Trip flexibility: Amtrak is waiving all change fees through December 31, 2020 and cancellation fees through October 31, 2020. This includes reservations booked with points. To modify a reservation, log into your account and go to 'Modify Trip' on Amtrak.com, or find your reservation from your account on the home screen in the Amtrak app. If you want to cancel your reservation without a fee, call 1-800-USA-RAIL and speak with an agent.
Limited Bookings: We are limiting bookings on most trains to allow for more physical distancing in seating areas.
Contact-Free Travel
Electronic Ticketing: When you book your ticket on the website, you will receive an eTicket as a PDF attachment to your emailed receipt. You can also book and retrieve your eTicket in the Amtrak app. Simply open the eTicket on your mobile device and show the QR code to the conductor.
Cashless service: Amtrak has made the decision to only accept credit and debit cards at stations and onboard trains for the health and safety of passengers and crews.
Contactless movement onboard: To move between cars, customers can press on the "automatic door open" button with their foot to avoid touching the doors.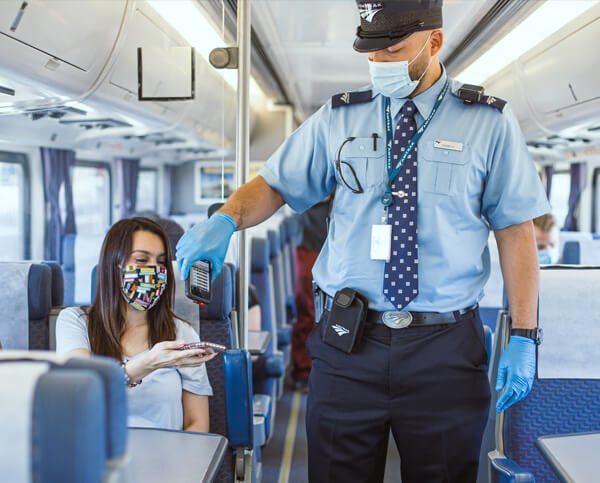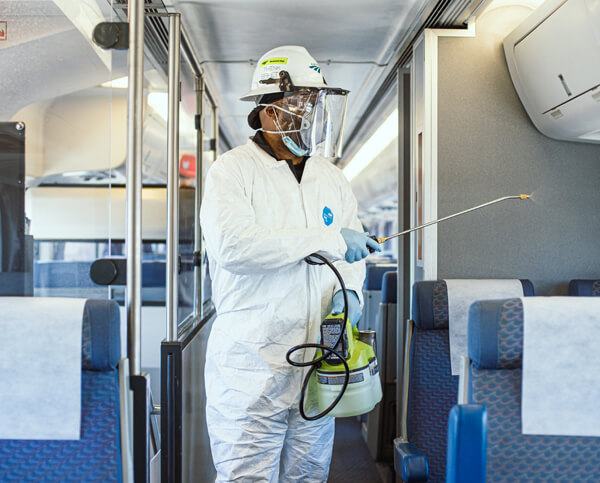 At the Station and Onboard
Facial covering requirement: All passengers and employees must wear facial coverings that cover their nose and mouth while at stations and onboard trains and buses. Small children who are not able to maintain a facial covering are exempt from this requirement.
Enhanced cleaning protocols: Amtrak has increased the frequency of cleaning service at stations and onboard trains to multiple times a day, and in some cases, on an hourly basis. Commonly used surfaces in stations such as handrails, door handles, counter tops, seating areas, and Quik-Trak kiosks are cleaned with EPA-registered disinfectants
Physical distancing: Signage has been displayed at our busiest stations to indicate safe distances in high traffic areas. Trains continue to operate at their normal length, to allow adequate space for social distancing.
Handwashing: Each train car has a restroom on the upper and lower level with soap and hot water for washing hands.
Upon arrival: When the train is approaching a destination, conductors make announcements regarding where and when customers should disembark to minimize crowding at the exits.
Food & Beverage
Market Café: While the Market Café is still open, it has temporarily stopped selling certain items to address a change in demand and also limit the amount of handling that is required. Grab-and-go snacks are still available, as well as bottled and canned beverages. Please note that seating in the Market Café is closed, but customers may bring items back to their seats. Customers may also bring their own food and non-alcoholic drinks onboard.
Physical distancing: For customers placing orders in the café, signage and markers promoting physical distancing leading up to the café counter have been added.