As we continue to navigate the pandemic, we'd like to take a moment and proudly feature our Operations Compliance and Safety Team, whose work continues as they go out into the field daily to safely carry out essential work along the corridor in support of the Pacific Surfliner service.
Jay Ellis, the Operations Compliance and Safety Manager, and Steven Griego, the Equipment and Mechanical Compliance Manager, make up a two-person team at the LOSSAN Agency responsible for the oversight of general operations, mechanical activities, and station operations related to the Pacific Surfliner.
Throughout the pandemic, they've continued to perform important inspection, coordination, and reporting activities which require them to be present at maintenance facilities, stations, and trains. To ensure the safety of themselves and others, they follow strict guidelines including wearing facial coverings, frequently washing and sanitizing hands, and maintaining physical distance.
Learn more about Jay and Steve, and their contributions to passenger rail:
When did you join the LOSSAN Agency, and what did you do prior?
Jay: I came to LOSSAN in May 2016. My railroad career started at BNSF Railway in Missouri where I was a conductor. Then I worked as a locomotive engineer around the western United States before going to Amtrak, where I was promoted to the manager of locomotive engineers. Just prior to working for LOSSAN, I worked for the state as the Railroad Accident Investigator for the Southern California region.
Steven: I joined the LOSSAN team in July 2019. Before that, I was a Fleet Performance Specialist maintaining Metrolink equipment as a contractor with Bombardier. My most interesting job prior to starting my railroad career was working for Raytheon Aerospace installing multiple laser engagement systems (MILES) on all Air Defense military equipment for live field training.
Can you describe what a typical day is like?
Jay: I'm fortunate to spend a lot of time on the train, since I'm responsible for performing inspections and observing the crews, passengers, and equipment. My typical day starts off with catching the 6:00 a.m. train out of San Diego, and either riding to Anaheim if I'm going into the LOSSAN office, or to other cities such as Irvine and Los Angeles to check on stations and board different trains. I also visit the maintenance facilities in Los Angeles and San Diego to observe mechanical activities related to equipment cleanliness and defects. I generally return to San Diego between 4:00 p.m. and 6:00 p.m.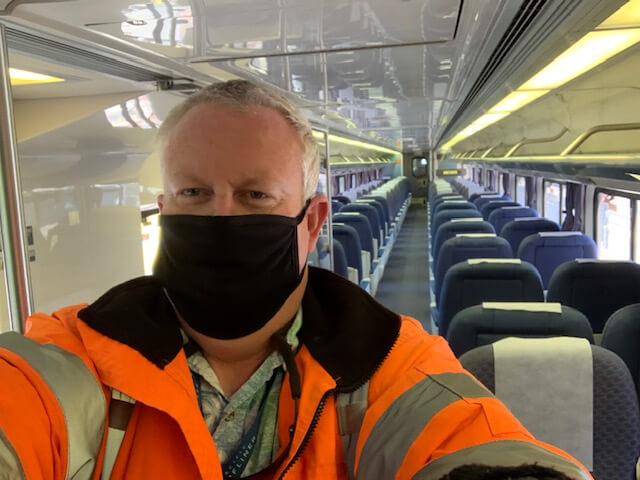 Steven: I'm also out in the field most of the time. My day typically starts off with an early morning train ride where I engage with the train crew to learn about any issues or defects that occurred with the equipment during the trip. Our team wants to make sure the equipment is in good condition and that the highest standards are followed for cleanliness, Wi-Fi, and more. I spend a lot of time at the maintenance facilities, mostly Los Angeles but also San Diego and Goleta, where I have the ability to work with the mechanical team in a shop environment to determine the best maintenance practices and provide technical support if needed. I like to say my new office is on the train, and I get to enjoy the beautiful ocean views from the window as I write reports between meeting with different teams.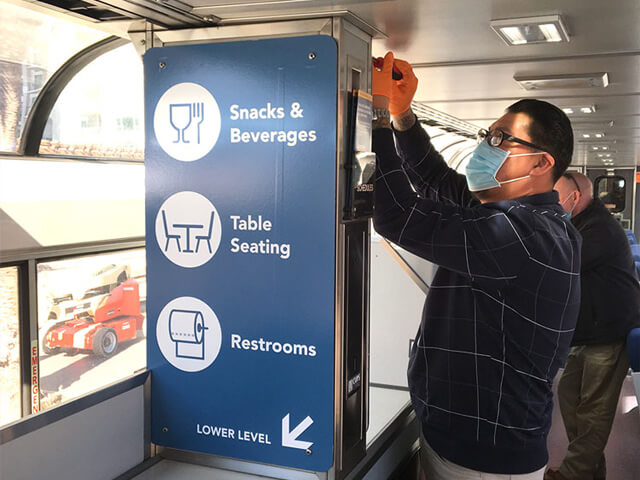 How has your workday changed since the pandemic? What challenges have you overcome and how?
Jay: Not much has changed, other than not going into the LOSSAN Agency offices since most employees are being encouraged to work remotely. I'm working in the field most days and do my office work, like writing reports based on my inspections, from the train. It has been an adjustment not personally seeing fellow LOSSAN team members in person to work on various projects, but we still communicate frequently via email and over phone and video calls.
Steven: We're also being extra cautious since we're out in the field. Cleanliness has always been top of mind for us working in compliance, but it's on a whole other level now. We wear masks when at the stations and on the trains, and maintain distance when visiting the maintenance facilities. Our team helped with the implementation of hand sanitizer and antibacterial wipes that are now on the train, so that was an accomplishment.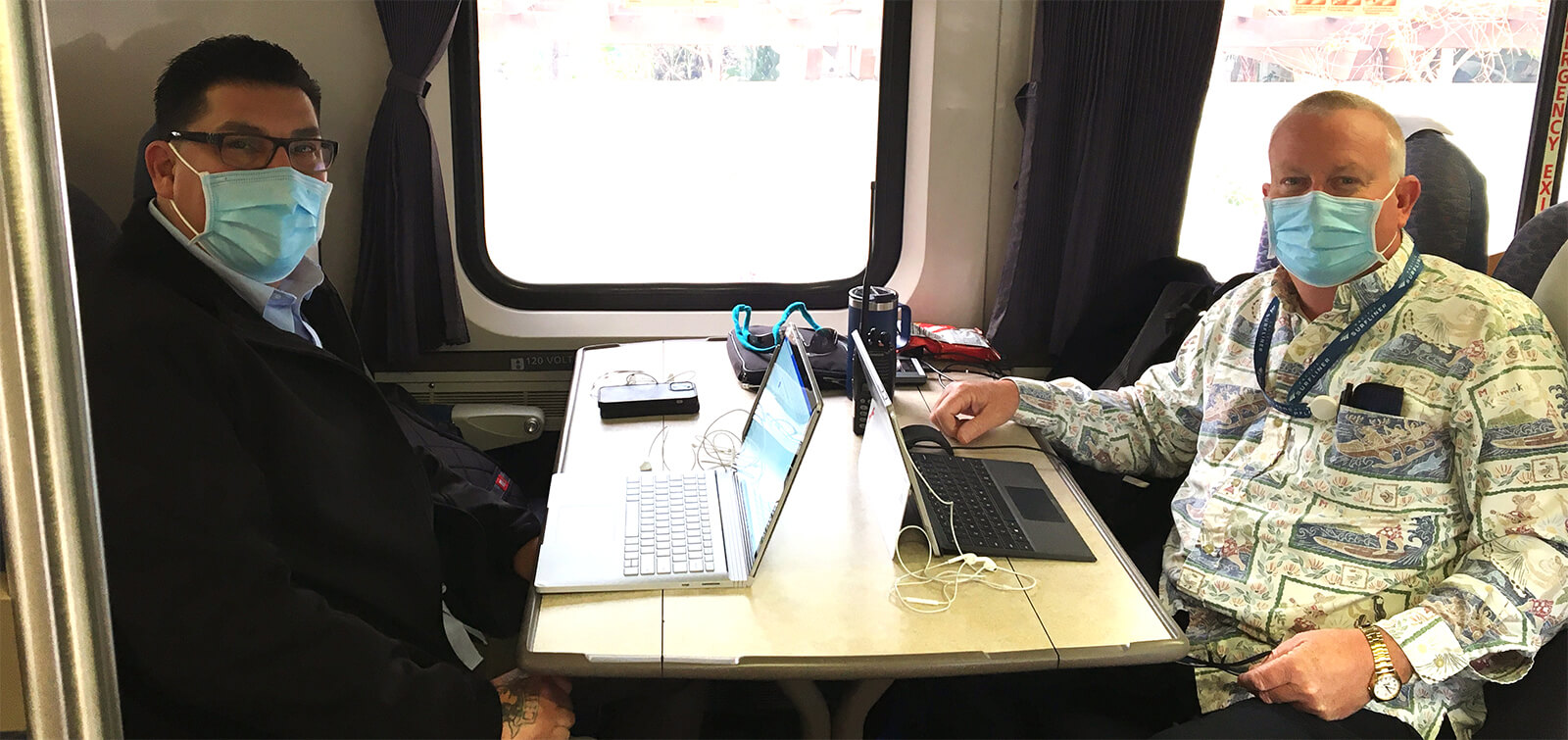 What is an interesting experience that you've had while working at LOSSAN?
Jay: I've accompanied journalists during their trips onboard Pacific Surfliner trains to answer questions and show them around the train. A reporter from San Diego met with me on the train to learn about the safety enhancements we have onboard, which was great to help educate the public about how we're keeping everyone safe.
Steven: I was on the train and learned that Alicia Keys and Swiss beats were also onboard riding to Los Angeles. I believe she performed at the Grammys the next day. You never know who you might run into when riding the train.
Outside of work, what do you enjoy doing? What is your favorite hobby?
Jay: I like camping and traveling by RV around the country. It's fun to see what each state has to offer. My perfect day would be camping by a lake enjoying nature, drinking coffee in the morning and roasting marshmallows at night.
Steven: I restore classic cars, buying vintage parts and bringing the cars back to life. It is hard work, but also rewarding. I'm also a big sports fan – go Lakers and Dodgers!
Let's close with a fun question – pizza or tacos?
Jay: Tacos – the street tacos from Old Town Mexican café (not far from the Old Town San Diego station) are great. I also love a good fish taco with cabbage.
Steven: Tacos – the best are tacos dorados with carne, beans, guacamole, lettuce and creme de queso. El Atacor Mexican restaurant in Whittier has great tacos.
Fun Fact: Jay and Steven accompanied a photographer on the train to capture some images of sanitization stations now available onboard. They each cameoed in the photos to model the new tools in action.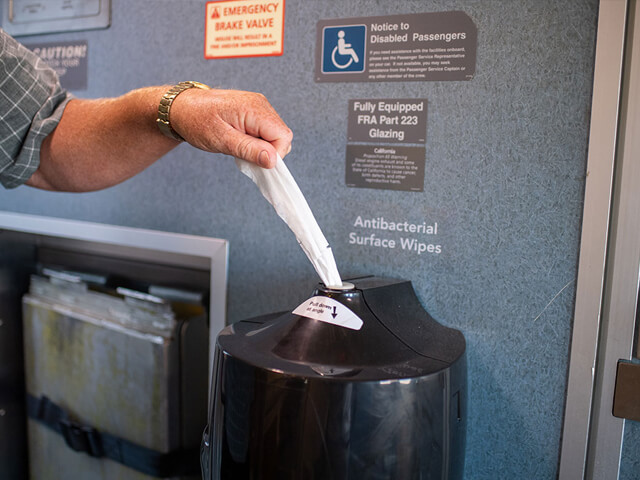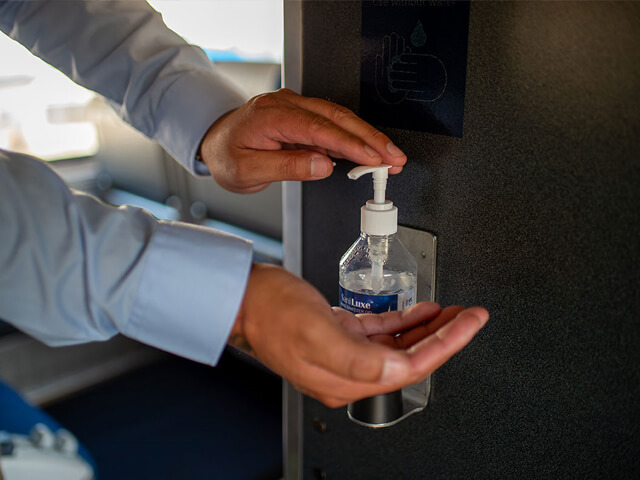 A big thank you to Jay and Steven for sharing some details about their roles at the LOSSAN Agency! Stay tuned for more spotlight articles about our teams and the work we're doing to improve train travel along the LOSSAN rail corridor. Learn more about the LOSSAN Agency.