There are a few Amtrak routes that serve Southern California, and which you choose for your next trip depends on the experience you are looking to have and where you want to go.
It's no surprise that we love recommending the Pacific Surfliner as a comfortable and convenient option for day trips and weekend getaways. But there are also long distance routes, including the Coast Starlight, Southwest Chief, Sunset Limited, and Texas Eagle, which travel into other states and offer a different set of amenities.
Learn about the major differences between the Pacific Surfliner and Amtrak long distance routes to help you decide which to use next time you travel.
Where do you want to go?
Pacific Surfliner
Pacific Surfliner trains serve stations along the SoCal coast, including San Diego, Orange, Los Angeles, Ventura, Santa Barbara, and San Luis Obispo Counties. Make quick trips and explore more destinations in a given area.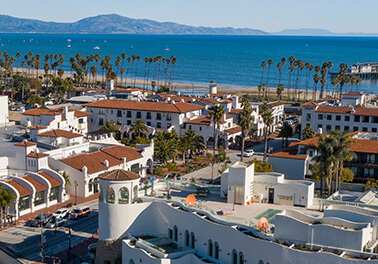 Long Distance Routes
Four long distance Amtrak routes serve select stations in Southern California and travel to different parts of the country. The Coast Starlight travels along the West Coast to Seattle. The Southwest Chief travels through the American West to Chicago. The Sunset Limited travels to New Orleans and the Texas Eagle travels to San Antonio and then Chicago. Connections from the East Coast are also available.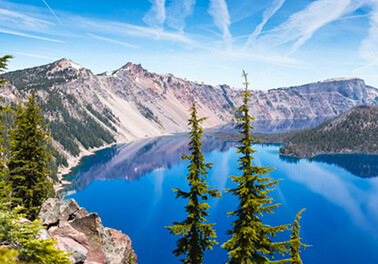 ---
When do you want to go?
Pacific Surfliner
Trains operate multiple trips each day along the route, starting in the early morning until late night. Trips can be short if traveling only a few stations (30 minutes or so), but can be as long as nine hours if traveling the entire length of the route.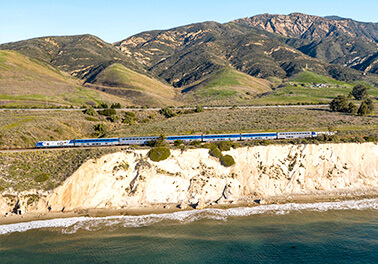 ---
For how long do you want to get away?
Pacific Surfliner
If you are looking for a daytrip or a weekend getaway, intercity trains like the Pacific Surfliner are a great option. Since there are frequent departures, there is greater flexibility when planning a trip.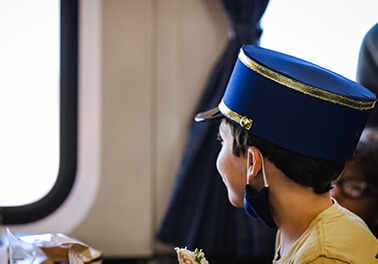 Long Distance Routes
Your journey on long distance trains may span a few days depending on how far you are traveling. From no middle seats to larger-than-life windows to the freedom to move around, there is no better way to see America. Explorers can purchase a USA Rail Pass, which can be used to take 10 rides across the country over a 30-day period for one low price.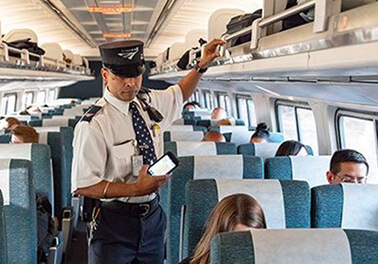 ---
What types of accomodations are you looking for?
Pacific Surfliner
Pacific Surfliner trains offer Unreserved Coach and Business Class seating. There are cushioned, spacious reclining seats for all riders. Trains offer amenities such as free Wi-Fi, power outlets, dropdown trays, restrooms, foot rests, and overhead lights.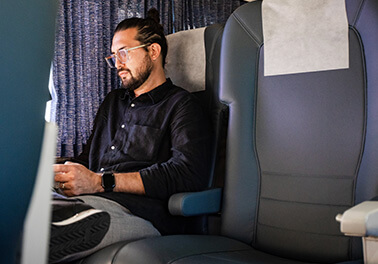 Long Distance Routes
Because the length of long distance train trips can vary, passengers can book private rooms with a convertible bed. Larger rooms have multiple beds as well as a restroom. Private rooms include comfortable seats and meals. In addition, Reserved Coach, First Class, and Business Class seating options are also available.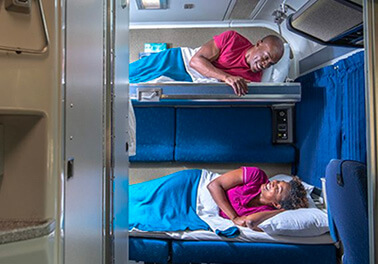 ---
What type of dining experience are you interested in?
Pacific Surfliner
The Pacific Surfliner Market Café offers fresh food such as sandwiches and salads, along with pizza, snacks, sweets, and travel accessories. Soft drinks, water, local craft beer, California wines, and cocktails are also available. Riders typically bring their purchases back to their seats, but there are some tables available in the Café Car.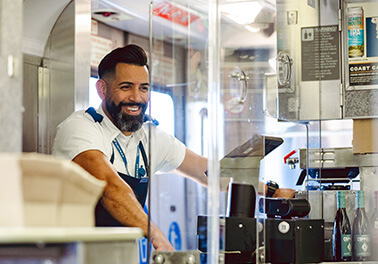 Long Distance Routes
Long distance routes typically have dining cars with sit-down meal service that offer breakfast, lunch, and dinner menus. Lunch and dinner service require reservations. Similar to the Market Café, long distance trains typically have a lounge car, featuring lighter fare and beverages.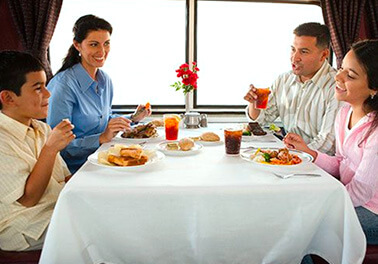 ---
What is your budget?
Pacific Surfliner
The Pacific Surfliner has a fixed price structure, meaning the cost of a trip is the same between a station pair regardless of when the reservation is made. Everyday Discounts are available to seniors, students, kids, and other groups. There are also special promotions and seasonal offers to help save on the cost of a trip. There is an additional cost to upgrade to Business Class.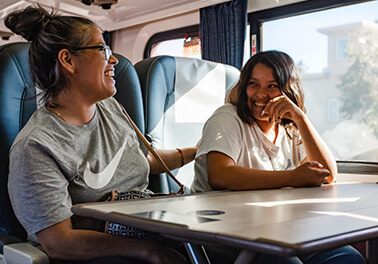 Long Distance Routes
Long distance trains require a reservation and need to be booked in advance. Many times, special savings are available for trips booked farther out through Saver fares. Share fares are also available, providing increased savings for up to eight travelers under one reservation. Coach ticket prices vary, depending on the length of your trip as well as the type of accommodation booked with it.