The LOSSAN Agency, in partnership with Amtrak, has upgraded the Wi-Fi system on Pacific Surfliner trains. The Wi-Fi system is a free onboard amenity to passengers and supports general web browsing activities for Internet-enabled laptop computers, tablets, smartphones, and other devices.
Amtrak has managed Wi-Fi on the Pacific Surfliner since it was introduced to the service in 2011 as part of a national initiative. In 2019, Amtrak transferred to a new Wi-Fi vendor, and the new vendor agreed to install their Wi-Fi hardware, including new receivers, on Pacific Surfliner trains at no cost to the LOSSAN Agency or the State of California.
Benefits to Passengers
The new Wi-Fi system is faster and more reliable. On other Amtrak routes equipped with the same system, which includes the Northeast Regional and the Auto Train, performance levels have allowed customers to more consistently stream movies and music, play online games, and download large files. These types of high-bandwidth activities couldn't be done reliably with the previous Wi-Fi system on Pacific Surfliner trains, which was 10 years old. While the overall speed and reliability of the Wi-Fi system has improved, there may still be locations where service remains unavailable, since the new system still relies on coverage provided by cellular carriers and there are some locations along the LOSSAN rail corridor where cellular coverage remains limited.
Overall, the enhanced reliability offered by the new system provides passengers the ability to stay connected longer and use their workplace virtual private networks (VPNs).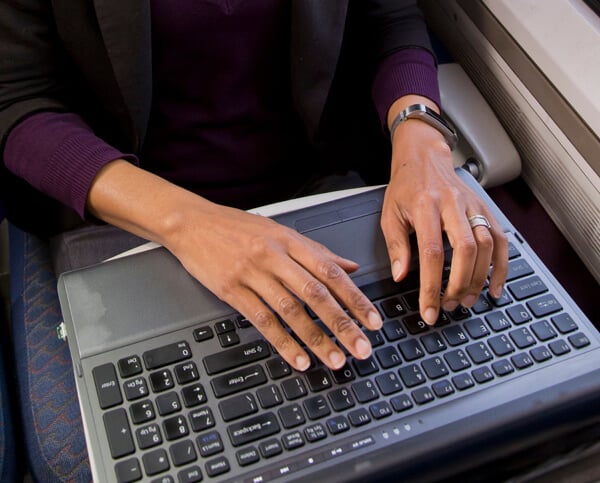 Other Improvements
In addition to an enhanced passenger experience, the new Wi-Fi system also offers more support on the backend. LOSSAN Agency staff now has the ability to monitor the performance of the Wi-Fi system on each train through a web-based dashboard, which helps to identify and troubleshoot issues. As part of the service agreement with the Wi-Fi vendor, network support will be provided 24/7, which should decrease the number of outages and result in a more reliable system.
Timeline
Installation was carried out incrementally, with trains going into service with the new system as the hardware was installed in the café cars, which serve as the receivers for each trainset. Upgrades were completed by summer 2021.