Save 20% on Trips to Anaheim
KROQ's annual holiday bash is coming back to Orange County on Dec 7th and 8th, with two nights of unforgettable musical performances at the Honda Center. The Anaheim train station is across the street, less than a five-minute walk, so don't drive to the show – take the Pacific Surfliner instead!
Use promo code V712 to save 20% on your trip to Anaheim. Simply use our booking tool to explore options and prices. Make sure "Adult" is selected as the passenger type. Or, call 800-USA-RAIL or visit a staffed station and refer to the discount code.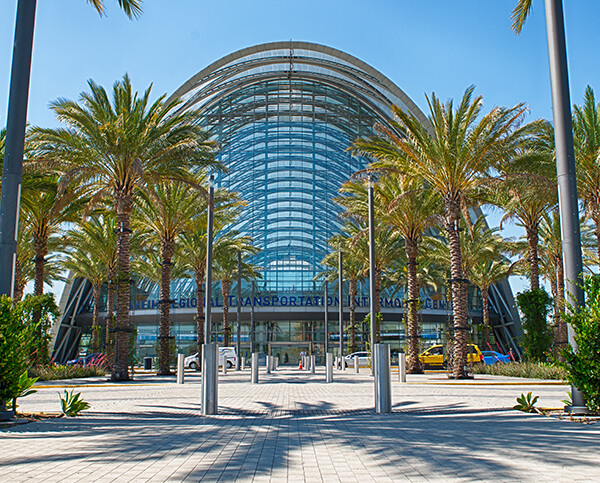 Discover a Better Way to Get There
Take the train to Anaheim from downtown Los Angeles, San Diego, or stations in between. Let us do the driving as you get pumped up for a great show at the Honda Center. The last train leaves at 11 p.m., giving you plenty of time to walk back to the station.
Travel Details
Please refer to the schedule to determine which trains you'd like to take. The walk between the station and the Honda Center takes approximately 10 minutes. The show it expected to start at 6 p.​m.​ and end at 10:​45 p.​m.​
The last Pacific Surfliner train of the night heading south is Train 796, which departs from Anaheim at 11:​01p.​m.​ The last train heading north (to Fullerton and Los Angeles) is Train 595, which also departs from Anaheim at 11:​01p.​m.​
Please allow adequate time to get from the venue to the station to get to the platform prior to the scheduled train departure.
OFFER TERMS AND CONDITIONS: This offer is valid for 20% off the regular (full) adult rail fare for trips to or from Anaheim. Reservations are required a minimum of three days prior to travel. This offer is valid for travel between December 7, 2019 – December 8, 2019. Seating is limited; seats may not be available on all trains on all days. Fares are subject to availability. This offer is valid for travel on the Pacific Surfliner and associated thruways; except not valid on the 7000-8999 thruway series. This offer is valid for coach seats. Upgrade to business class is available upon full payment of applicable accommodation charges on Pacific Surfliner. In addition to the discount restrictions; this offer is also subject to any restrictions, blackouts and refund rules that apply to the type of fare purchased. Fares, routes and schedules are subject to change without notice. Once travel has begun; no changes to the itinerary are permitted. This offer is not combinable with any other discount offer. Other restrictions may apply. Please refer to discount code V712.