Book Early, Reservations Required
Temporary adjustments to Pacific Surfliner service have been implemented for those who plan to travel for the upcoming holiday. Pacific Surfliner trains will require reservations during the week of Christmas to safely manage an expected increase in travelers. This temporary adjustment will help manage capacity and allow customers to distance themselves from each other onboard.
Reservations required on Pacific Surfliner trains:
Thursday, December 23 – Monday, December 27, 2021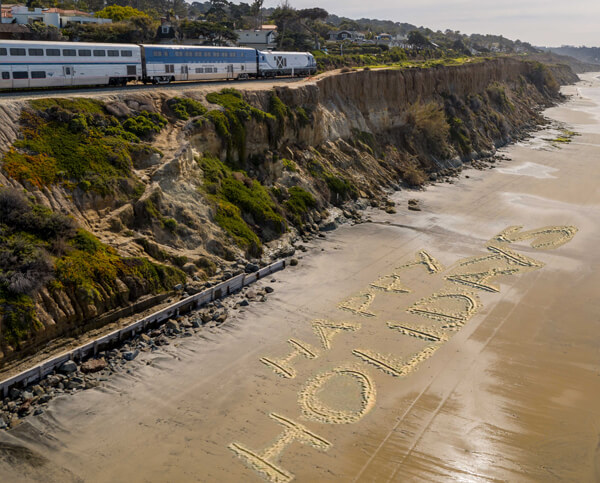 Holiday Travel Policies
Multi-Ride Passengers. During the reservation period, customers with an Amtrak monthly pass or 10-trip ticket must confirm each trip in advance through the Amtrak RideReserve program. Confirm a trip on Amtrak.com or the Amtrak app by retrieving your ticket, choosing the date and direction of travel, and selecting "confirm" on the train you'd like to reserve a seat on. You can also reserve in advance through an Amtrak customer service agent by calling 1-800-USA-RAIL or visiting a staffed station. Get more details about the RideReserve program at Amtrak.com/RideReserve. Note: During this time, 10-Trip tickets can only be used by a single rider at a time.
Metrolink and COASTER passengers. The Rail 2 Rail® program will be suspended from Thursday, December 23 through Monday, December 27, 2021, resuming on Tuesday, December 28, 2021. During this time, Metrolink and COASTER passes will not be accepted. An Amtrak ticket will be required to reserve a trip and travel on Pacific Surfliner trains.
Exception: Trains 761, 770, 777 and 784 will still accept Metrolink tickets for stations between Los Angeles and Oxnard.
Trip Planning Tips
Travel Responsibly. Follow safety measures and any important public health orders in place during your trip and at your destination. This includes wearing a mask at stations and onboard trains at all times, washing hands or using sanitizer often, and staying home if you are sick. You can also learn about the safety and cleaning measures that have been implemented in stations and on trains to help maintain the wellbeing of passengers and crews.
Book Travel Electronically: The Amtrak website and app now offer additional digital payment options, including Apple Pay, Google Pay and PayPal, to make it easier to book travel and update reservations. Your eTicket will be delivered to your inbox and is also available in the app.
Cancel If You Need To. Amtrak has waived all change fees for reservations made through January 4, 2022. If you decide that you don't want to take a trip, and prefer to cancel rather than postpone, please call 1-800-USA-RAIL and speak with an Amtrak agent.
Use an E-Ticket. When you book a ticket online or through the Amtrak app, you receive your ticket electronically. Save the ticket on your mobile device and present it to the conductor upon request. There's no need to handle or keep track of a paper ticket.
Be On Alert. Stay up to date on the status of your train. Follow us on Twitter (@PacSurfliners) or check alerts and notifications on our website.
Travel Tips
Luggage. You can bring two bags per passenger, measuring up to 28" x 22" x 11" and weighing 50 pounds or less, for free. You can also bring two personal items. If you are traveling between stations with luggage service, you can check your bags. Please note: Not all stations are offering checked baggage service at this time. Check our Travel Advisory page for information.
Business Class. Enjoy more spacious seating as well as complementary snacks and drinks when you upgrade to Business Class.
Photo ID. Remember to bring valid photo identification with you, since the conductor may request it.
Arrive early. Give yourself extra time to navigate through the station and ensure you are waiting for the train in the right place. Some Amtrak ticket windows are closed, but you can call 800-USA-RAIL for assistance. View the latest information on our Travel Advisory page.
See Something, Say Something. Report any suspicious activity or unattended items to an Amtrak employee or member of the Amtrak Police Department by calling (800) 331-0008, calling 911, or sending a text message to APD11 from a smartphone, or to 27311 from a standard cell phone.