Jump-Start Travel Plans for Someone Special
Send that special someone the gift of train travel on the Pacific Surfliner. Amtrak Gift Cards are redeemable for travel online, in the app, by phone, or in the station. (May not be used for onboard purchases).
Additionally, with more than 30 train routes throughout the United States, and some in Canada, Amtrak Gift Cards are redeemable for travel to over 500 destinations in 46 states.
Simply select the amount of your gift card (up to $500) and choose your delivery option – you can send a digital card via email or a traditional gift card with flexible shipping options.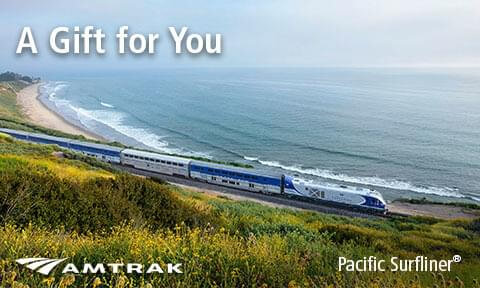 Gift Card Terms and Conditions
Questions?
For issues with orders or delivery of cards purchased on Amtrak.com, call 1-833-883-3376 or email amtrakgiftcardsupport@cashstar.com between 8 am and 8 pm EST, seven days a week. For issues with cards purchased elsewhere or for any issues with card activity, card balance or lost/stolen cards regardless of place of purchase, call 1-888-999-0016.