The world's most elite action sports athletes are coming to SoCal for X Games California. Ride the Pacific Surfliner to Finals Weekend at the Ventura County Fairgrounds Friday, July 21 through Sunday, July 23, 2023. You'll arrive steps from the action.
What are the Summer X Games?
This summer will mark the first time in three years since X Games fans can come together to see Skateboard, BMX, and Moto X competitions. A series of engaging events will be held across Southern California, including San Diego and Los Angeles, leading up to Finals Weekend in Ventura. More than 150 athletes are expected to compete. There will also be surprise musical guests, athlete appearances, and an interactive festival to welcome fans back.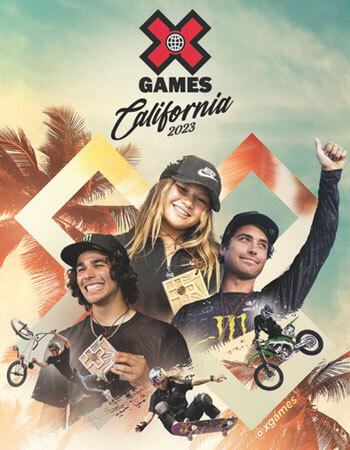 Save on Admission and Train Travel
X Games: Save 15% on single and multi-day general admission tickets, SuperFan, or XIP passes with the code AMTRAK15 at checkout. Single day adult general admission tickets start at $60.

Train Travel: Save 15% on Pacific Surfliner trips to Ventura between July 21 and 23. View offer terms below.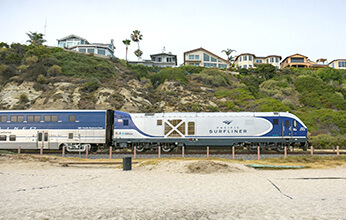 Why Take the Train?
Arrive steps from the action – the train station is even closer than some parking spaces in the fairgrounds parking lot!
Convenient access to Ventura from stations across Southern California. Many offer free parking.
Take control of your travel time – while on board, you can charge your devices, browse on your phone, have a drink (alcoholic and non-alcoholic options available), recline in your seat, and more!
Enjoy iconic SoCal views, including beaches, agriculture, rocky mountain passes, and cityscapes.
Seating for groups of 3 or 4 available.
Skateboards, surfboards, and bikes are allowed on board. Bikes require an advance reservation – reserve a spot for free when booking your trip.
Optional Business Class upgrade for a guaranteed seat, snacks, drinks, and other perks.

Sample Trips
| | | |
| --- | --- | --- |
| Downtown LA to Ventura | 2 hours | Starting at $26 each way |
| Camarillo to Ventura | 30 minutes | Starting at $12 each way |
| Santa Barbara to Ventura | 50 minutes | Starting at $14 each way |
| Anaheim to Ventura | 3 hours | Starting at $32 each way |
Booking Tips
Determine your nearest starting station and how you will get there. Many stations offer free parking.
Select Ventura (VEC) as your destination.
Compare the train schedules to the event schedule. We have five roundtrips to Ventura each day. There are some good hotels in the area in case you're planning to stay the night before heading home.
More to See and Do in Ventura
While you are at Ventura for the X Games, make time to explore more of this laid-back beach town. Visit Ventura has lots of great resources for getting the most out of your visit.
OFFER TERMS AND CONDITIONS: This offer is valid for 15% off the regular full adult rail fare when traveling to and from Ventura, CA. This offer is valid for sale May 30-July 23, 2023, and valid for travel July 21-23, 2023. No advance reservation is required. This offer is valid for travel on Pacific Surfliner Trains and associated thruways (except 7000-8999 thruway series). This offer is valid for coach seating; upgrade to Business Class is available upon full payment of applicable accommodation charges. Seating is limited and may not be available on all trains at all times. This offer is not combinable with any other discount offer. In addition to the discount restrictions, this offer is subject to any restrictions, blackouts, and refund rules that apply to the type of fare purchased. Fares are subject to availability. Routes and schedules are subject to change without notice. Once travel has begun, no changes to the itinerary are permitted. Other restrictions may apply. Please refer to discount code V509. AMTRAK and Pacific Surfliner are registered service marks of the National Railroad Passenger Corporation.